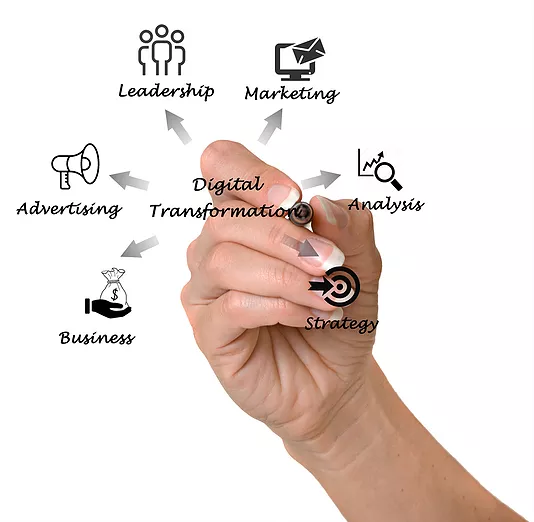 02 May

4 Steps to Digital Transformation

Everyone can reap the benefits of the digital movement, no matter your company's size. There is a path to get there and more than a few products to help along the way.  These steps, while simple in nature will start developing the framework for a creative company landscape to that will truly transform your business by blurring the lines of technology and physical business models.

Step 1:  Digitalization:  bringing your data together.  (Tactical)

Get out of spreadsheets, custom databases, manual forms, post-it notes, and documents.   Bring together your data into a centralized or properly federated system.  Choosing the right tools at this stage will be important if you want to further your digital journey quickly.

Quick Wins:
Implement a robust CRM (improve business and customer visability)
Move from email to online collaboration software and messaging (improve workplace collaboration and productivity)
Utilize online forms for data collection (increase data consistency and analytics)
Go paperless (Reduce cost and increase availability of information)
Step 2: Digitization: aligning technology with your business (Tactical)
Gartner defines Digitization as "the use of digital technologies to change a business model and provide new revenue and value-producing opportunities; it is the process of moving to a digital business."   It is an exciting time when customers start to see how migrating data into a centralized system can start providing immediate value and begin to foster ideas of growth, efficency, and organizational visions. Digitization is about being deliberate in utilizing your data to improve your business and customer experience.
Quick Wins:
Take your data mobile (improved customer service)
Automate your business process (decrease business cost)
Incorporate analytics into your business decisions (be right more often)
Provide more information to your customers through web and video (increase customer engagement and mind share)
Step 3: Digital Transformation (departments): spreading your wings (Strategic)
Digital transformation is means to enable innovation and creativity in a specific domain rather than enhance old processes with technology.  DT will help to form a personal connection between you and your client, open new revenue channels, and enable innovation at record speed.  In today's world, individuals want to engaged, they want a connection, they want something of value in return for their time. It will be time to step outside you comfort zone and provide services that your customer demands.
Quick Wins:
E-Commerce (increase customer base)
Mobile Services (improved customer engagement)
Digital Marketing (become more targeted and personal)
Internet of Things (IOT) integration (gather data and provide more insight to your customers)
Step 4: Digital Transformation (Company): support an omni-channel.
Omni-channel is not simply a way to or your clients to interact with you. It is a means by which your organization can truly deliver a unified front to your employees, clients, and partners.   Utilization of APIs and/or unified CRM (e.x. Salesforce) will bring consistency in data and services across all channels such as web, mobile, and customer service.
Quick Wins:
Provide APIs to organizational services and data (increase revenue channels, increase internal creativity, increase speed to market for new services)
If you are not aiming to align your business to the digital world, our bet is that your competition is.  We live in a very personal, always-on society that is unified through digital technologies.   Utilization of products like Salesforce allows for companies of any size to quickly realize the value of digital transformation initiatives.  The key is to develop a road-map of reasonable objectives that can be implemented within short timelines, align all objectives and requirements to the company vision, and continuously build on the value through each iteration.  It is exciting how quickly our clients start to see the value of digital technologies once they see their data in a system that can be leveraged at will.
The consultants at Cloudland Technologies are always excited to help our customers build their digital transformation journey.  Give us a call anytime to set up an initial consultation and let's see how your journey will unfold.